If you can't relate, over-compensate.
A new survey from the Pew Research Center indicates that most Black Lives Protesters are young white people. Statista's Niall McCarthy notes that Pew polled 9,654 U.S. adults, of which 6 percent said they attended a protest or rally related to race/racial equality over the past month. A large number considering we are in the midst of a "deadly" pandemic.
Blacks only make up 17% of the protesters, while whites make up 46%.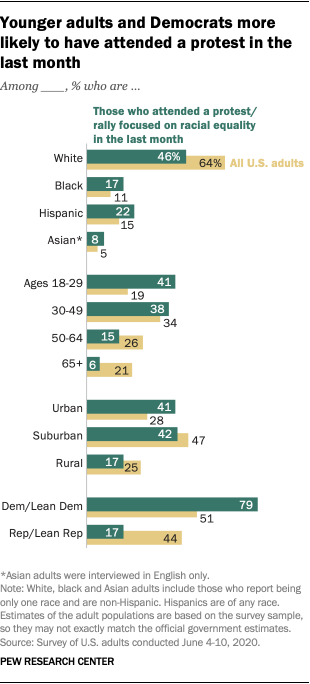 City dwellers, who represent 28% of the adults surveyed, make up 41% of those who say they have protested within the past month. Some 42% of people who participated in last month's protests live in the suburbs (compared with 47% of all adults), and those who live in rural areas account for 17% of recent protesters, compared with 25% of the survey sample.
This is kind of what young white people do now. Their entire lives, they've been told how great they are, how smart they are, and basically been brainwashed into thinking government handouts don't come with negative consequences. They have been taught to hate America. To be honest, hatred of America has always been a part of the Democrat Party, but in 2020 it has become its central theme.
Outside of their sad little bubbles, they can't actually relate to anything foreign, especially the Other. Much of the history of the Western world over the past decades has involved replacing what worked with what sounded good, and they buy it hook, line, and sinker.
So, they do the only thing they know how to do–if you can't relate, just overcompensate. Or in many cases, decompensate.
These young activists somehow feel begrudged if you don't accept and unify with violent rioters, statue destroyers, history rewriters, and cultural revolutionists.
For these young white activists, demanding….not really sure what, but demanding nonetheless, this is really just a fashion statement. Previously it was 12 years before Climate Change ends us all, then it was if you don't wear a mask in public like a little twit, you are an uncaring, societal murderer.
The latest fashion craze is now Police brutality and the oppression of minorities–none of which are actually a thing.
It appears now, given the demographic makeup of protesters, and being so fashion-conscious, that White is the new Black. Sadly, there aren't enough cookies in the world to satiate these children.
So it goes.