It was amazing to watch looters destroy American businesses when they aren't even infectious disease experts. Turns out rioting was the cure for coronavirus this whole time. Who knew?
The riot in Minneapolis began when a group of 50 or 60 people attempted to loot a Target store in the Midway neighborhood. When police arrived, they reportedly dropped their stolen goods and ran down the street where they began to destroy other shops.
Meanwhile, SpaceX launches its first manned flight of the Dragon (leaving Earth is probably not a bad idea). When I was a kid I was naive enough to think by 2020 the world be obsessed with stuff like this rather than rioting. Then I realized it's about efficiency. Looting is just the welfare state without the middleman. Welcome to 2020 America where hair stylists and preachers are thrown in jail while looters and rioters are celebrated as freedom fighters.
Many of the businesses burned are small businesses that were already struggling due to the pandemic.
Other stores that were targeted included Foot Locker and TJ Maxx.
Rioters burned DC in 1968. It took 40 years for the city to recover. And it some ways, it never did. Some of the burned-out areas had crumbling buildings and vacancies for decades. Tens of thousands of people left town never to return. The city was literally gutted.
Timeline of events so far: Dems cheered on riots and looting until they realized how bad those things actually are and now they are desperate to blame phantom Russians and White Nationalists so they don't have to own the responsibility for the chaos they allowed. They raised the animals, and now they're out of the barn.
But then, it's all part of the playbook:
1. Instill fear 2. Lock people in their houses 3. Drive tens of millions out of work 4. Remove the pressure valves: Sports, Concerts, Bars, Theaters, Lunch with Friends… 5. Close the churches 6. Dehumanize through masking the healthy 7. Wait 8. Strike match…
Remember when we were all expected to believe that Jussie Smollett had been attacked in the middle of Chicago by a group of MAGA hat-wearing white supremacists? It seems like the looting of the CNN headquarters was the turning point that led pundits, political advisers, and government officials to say "actually this is a white nationalist psyop" which is hilarious.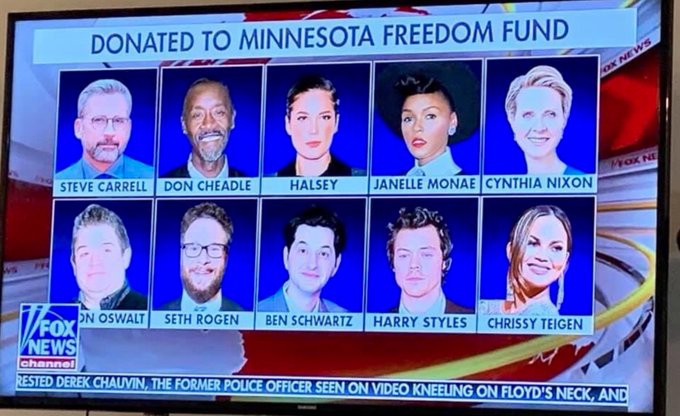 As "protesters" march on Trump Tower in Chicago and the White House, it might be helpful to might point out the death of Mr.Floyd happened under a Democrat mayor, Democrat senator, Democrat governor, with a Democrat county prosecutor. Buyer's remorse is a thing.
To the best of my knowledge, as I write this, Joe Biden has not condemned the violence and arson and looting the nation is witnessing. This appears to be some kind of perverse political calculation. Oh, and Senator Kamala Harris was protesting at the White House shouting, "Don't Shoot!"
Face it, the looters don't give two craps about Floyd. The whole "looting is justified .. because they're hurt… and insurance" is a statement that reeks of immorality and economic illiteracy. Looters aren't at all worried about George Floyd or black lives.
Where the hell is the evidence for far-right white supremacists doing this? The people who have largely supported/participated in the riots are Antifa, BLM, and far-leftists. The truth is that they realize they've screwed up big time, and now they want to shift the blame. Don't let them.
We see the same problem in the conversations about these riots that we did in discussions about the lockdowns. Some people find themselves unable to care about both lives and livelihoods, and they're very angry that other people can.
"Let's be very clear, the situation in Minneapolis is no longer in any way about the murder of George Floyd. It is about attacking civil society, instilling fear and disrupting our great cities." Minnesota Gov. Tim Wals.
There needs to be a federal investigation into these paid left-wing radical groups like Antifa, Black Lives Matter, and others that are responsible for extreme violence against innocent civilians, looting and arson, through command and control. Can people see what is happening here? Who is paying these people? The rioters have earpieces, military-grade radios, and repeaters on heir vehicles – who are they communicating with? Who are their command and control?
Antifa infiltrated the legitimate protests for George and in doing so took away from the protester's ability to get their issues addressed.
Reporting from Lafayette Park only a few hundred yards away from the White House, Fox News correspondent Leland Vittert said the scene was "unprecedented," as Secret Service members in riot gear were met by at least 100 protesters.
"I have never seen this in now six years in D.C. I don't know the last time that it's happened, but the Secret Service is now in riot gear," Vittert said. "They have exercised incredible strength with the epithets thrown at them."
So, who provided bricks for the rioters to use in Washington D.C. and Dallas? Somebody paid for them.
To sum up: In The Simulation, a battered nation went on offense against the Plague, came together over police brutality and racism (:-)), united in their hatred of CNN, and launched a rocket. When the protests end, the protestors go back to their lives and leave people of color to clean up the mess.
We have the capacity to destroy our cities and burn them to the ground. And we have the potential to fly men into outer space. The choice is ours.
Riots attract all kinds of people who have grievances, hate authority, or just want to watch the world burn. We have a pent up population that's pissed off. But this moment is about George Floyd. It's about black lives lost, and now that point is almost rapidly dissipating.
So it goes.