After brokering a peace between Israel and the United Arab Emirates (UAE), President Trump has been nominated for the 2021 Nobel Peace Prize. The nomination submitted by Christian Tybring-Gjedde, a member of the Norwegian Parliament, lauded Trump for his efforts toward resolving protracted conflicts worldwide.
Tybring-Gjedde, in his nomination letter to the Nobel Committee, said the Trump administration has played a key role in the establishment of relations between Israel and the UAE. "As it is expected other Middle Eastern countries will follow in the footsteps of the UAE, this agreement could be a game changer that will turn the Middle East into a region of cooperation and prosperity," he wrote.
Tybring-Gjedde, further, praised Trump for withdrawing a large number of troops from the Middle East. "Indeed, Trump has broken a 39-year-old streak of American Presidents either starting a war or bringing the United States into an international armed conflict".
The announcement comes just a week before Afghanistan and the Taliban are expected to begin peace talks.
The Kingdom of Bahrain and Israel established full diplomatic relations on Friday: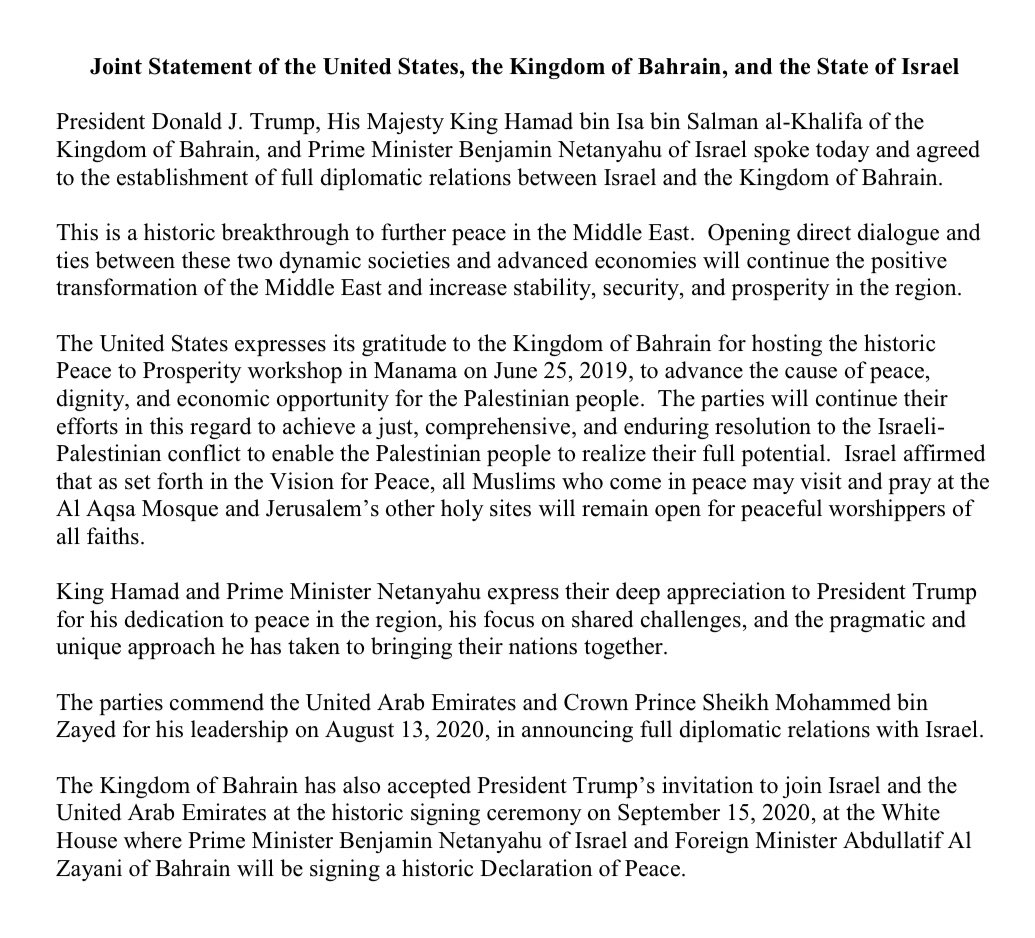 Gen. Frank McKenzie, commander of U.S. Central Command announced earlier in August a drawdown of US troops in Iraq from 5,200 to 3,000 in the month of September. McKenzie also noted the planned withdrawal from Afghanistan, noting that the U.S. military presence would decrease from 8,600 to 4,500 by late October.
The presidents of Kosovo and Serbia will meet at the White House later this month, as Donald Trump aims to make a breakthrough in the long-running dispute between the two nations.
The meeting, announced this week by Trump's controversial Balkan envoy, Richard Grenell, came as a surprise to European capitals and raised concerns in some quarters that a hasty deal between Belgrade and Pristina could involve a land-swap that could have unpredictable knock-on effects.
"If, and it's a big if, this initiative succeeds, it will be something of a slap in the face for the EU and its many years of efforts trying to normalise relations between Belgrade and Pristina," said Corina Stratulat, of the European Policy Centre in Brussels.