Antisemitism is the last bastion of collective racism still pardoned in polite society everywhere. Students in NYC laugh as they rip down posters of men, women, and children being held hostage by Hamas. One student claims the hostages "are not real."
While everyone is laser-focused on World War III threats across the Middle East, President Biden's border crisis is only worsening as a new migrant caravan departed from southern Mexico on Monday and is headed north to the US southern border. According to Reuters, 5,000 migrants from Cuba, El Salvador, Guatemala, Haiti, Honduras, and Venezuela are on foot near the city of Tapachula near the Guatemalan border. Fox News published new US Border Patrol data which reveals President Biden's disastrous open border policies have led to the release of 900,000 illegal immigrants into the interior US this year, including 150,000 in September alone. This offers new insight into the invasion the Biden administration allowed at the southern border (remember this?). The migrant invasion comes as the US military-industrial complex is funding two wars, one in Eastern Europe and the other in the Middle East.
One major worry is that some migrants from countries associated with terrorism have flooded the US. There has been no vetting of these folks, and no understanding, if any, have been radicalized – this is a huge national security threat. "People approved for walkovers include individuals from Iran, Lebanon, Syria, Iraq, and Afghanistan, with some of the largest numbers coming from Muslim-majority former Soviet republics such as Tajikistan, Kyrgyzstan and Uzbekistan," the NYPost said.
The radicals in the White House are allowing people from terror countries into the country.
A Bridgeport, Connecticut judge ruled on Wednesday to overturn the city's Democratic primary election after video emerged of a woman who appears to be the city's vice chair of the Democratic Town Committee, Wanda Geter-Pataky, committing ballot fraud.
NBC – U.S. and European officials have begun quietly talking to the Ukrainian government about what possible peace negotiations with Russia might entail to end the war, according to one current senior U.S. official and one former senior U.S. official.
All it took was the destruction of an entire generation of Ukrainian men who were sacrificed on the altar of the American war machine because Russia is the boogeyman.
JUST IN – Time Magazine reports that Ukraine struggles to rally financial support after its failed counteroffensive and amid allegations of widespread corruption. • A top Ukrainian presidential advisor warns that "people are stealing like there's no tomorrow" when asked about bribes and corruption. • 59% of Americans don't want Congress to provide more weapons to Kyiv, up from 35% in June. • The southeastern fifth of Ukraine, where the population is predominantly Russian speakers, remains under Russian control. • Zelensky's close advisor warns that "He deludes himself. We're out of options. We're not winning. But try telling him that." • Ukraine's shortage of soldiers is more dire than its deficit in arms and ammunition. Draft officers pull men off trains and buses and send them to the front. • The death toll has long surpassed 100,000 on each side of the war, forcing the draft of the elderly, raising the average age of a Ukrainian soldier to around 43 years. • Corruption remains widespread despite Zelensky firing numerous officers and the Defense Minister. • Zelensky is worried that the focus of Ukraine's allies in the U.S. and Europe and of the global media has already shifted to Israel, Palestine, and the Gaza Strip. Why are Time Magazine and the corporate media starting to throw Ukraine and Zelensky under the bus?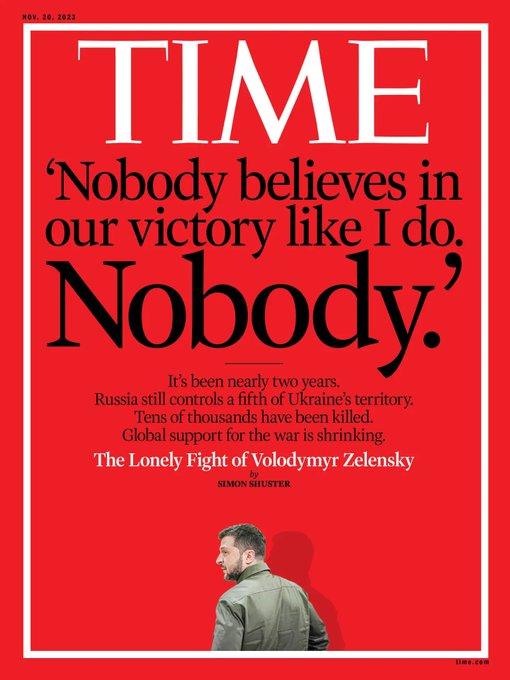 School Daze — It is time to reduce the flow of federal dollars to universities. Return the student loan portfolio to the private market. Make schools partially liable for student defaults. Put financial pressure on academia and force the entire sector to return to reality.