The Pro Hamas/Palestinian calls for a ceasefire are mindless. Israel isn't going to just roll over and let Hamas murder them because some over-privileged college students in the U.S. disapprove of them. If you think Israel is doing it wrong, explain how you would destroy Hamas and make sure another October 7th never occurs or shut up. You're not going to protest people into accepting getting murdered.
Pay no attention to the calls to murder Jews, the vicious assaults on Jewish students, the tearing down of posters bearing the faces of kidnapped Jewish children" it's only about the land." F@ck – and I can not overstate this – all the way off. There is a rampant Jew-hatred running through academia, government, and both major political parties. You either condemn it – no matter who engages in it, or you're a moral coward and a liar.
Interesting that we haven't seen any Muslim students hiding for their lives in their university libraries, or any American flag burning at pro-Israel rallies, or any signs that say, "keep the world clean of Muslims." Almost like the two sides aren't the same
"Hamas are evil pieces of shit and anyone defending them are also pieces of shit. Glad we got that cleared up" – Bridget Phetasy
Columbia University suspended a student group called "Jewish Voice for Peace." Wrap your head around that.
Meanwhile, Arab leaders meet in London to condemn Israel's bombing of Gaza, and the guest of honor is Syrian President Bashar al-Assad, a man who slaughtered more Muslims than Israel has in its entire existence. Like those marching in London today, the only deaths they seem to care about are those that can be blamed on Jews.
Of Note – many of the "decolonization" protestors are emotionally stunted, downwardly mobile young people who are using the pretext of politics to rationalize deeper, apolitical revenge fantasies, of which Israel is, for now, the most convenient object-antagonist. For a group of people whom our media insist only oppose Zionism, these anti-Zionists sure do wind up harassing, beating, raping, and trying to kill Jews a lot.
Jews in New York are being told to "shelter in place." This is Biden's America. Asking Jews to "shelter in place" in America while violent antisemitic hate groups and insurrectionists are free to threaten others because of religion & ethnicity is disgraceful.
The Anti-Jew Protests tell us one thing –The simple fact is that it's too late. America is not America. It is not a Constitutional Republic. Its government does not reside in Washington D.C., and the powers that control it do not acknowledge or adhere to any human laws.
Ladies and Gentlemen, may I present the Father Coughlin Chair of Whatever Studies at Georgetown University…..
https://twitter.com/visegrad24/status/1722586093529223347
PA SEN Feterman turns up the troll to 11…
From Tucker Carlson – "It now appears there actually was meaningful voter fraud in Fulton County, Georgia, last November (2020). That is not a conspiracy theory. It's true. Surveillance footage obtained by VoterGA shows large numbers of ballots being scanned multiple times. Pay attention to the women wearing yellow at the desk. According to VoterGA, she slides ballots into a scanning machine, removes the ballots, and then reinserts the same ballots. This happens multiple times. The question is, how many times were these ballots counted? Was each vote counted more than once? Fulton County won't answer that question. Now, one way to know that answer would be to check what are called audit tally sheets. Tellingly, for months after the 2020 election, Fulton County failed to provide more than 100,000 of those tally sheets, including 50,000 of them from mail-in ballots. When VoterGA finally forced Fulton County to turn over the tally sheets, the conclusion was stunning. Here's what the audit found. Seven falsified audit tally sheets containing fabricated vote totals… For example, a batch containing 59 actual ballot images for Joe Biden and 42 for Donald Trump was reported as 100 for Biden and 0 for Trump. The seven batches of ballot images with 554 votes for Joe Biden, 140 votes for Donald Trump, and 11 votes for Jo Jorgenson had tally sheets in the audit falsified to show 850 votes for Biden, 0 votes for Trump, and 0 votes for Jorgenson. Wait, did you just follow that? How is that not flat-out criminal fraud?"
BREAKING: FBI agents have seized New York Mayor Eric Adams' phones and an iPad in their federal corruption investigation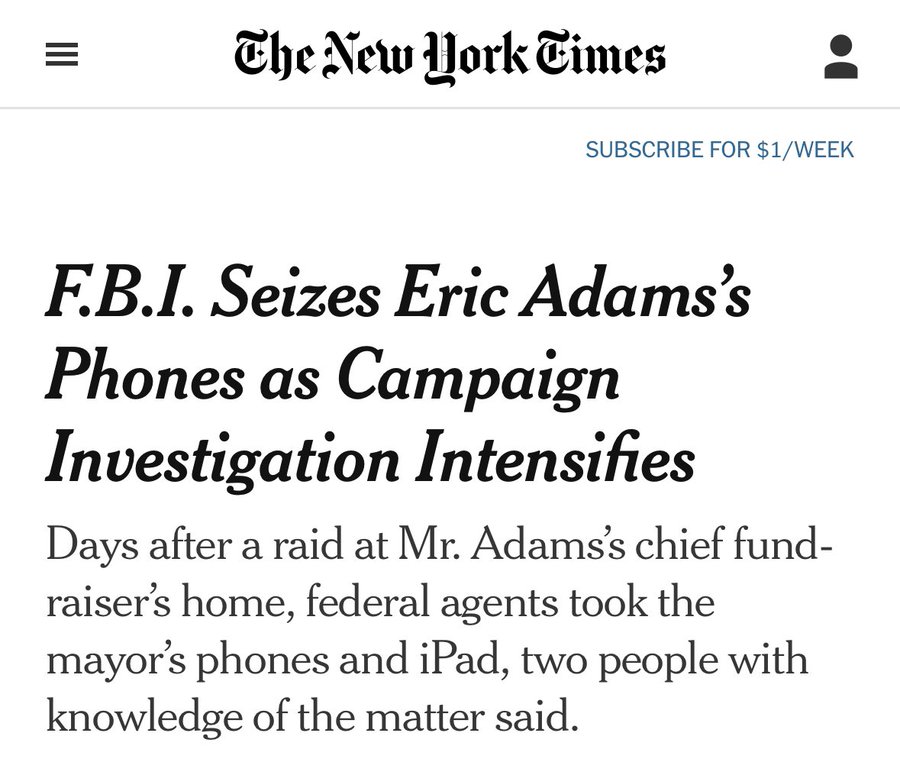 From the Nation – Military affiliation is today the single strongest predictor of extremist mass violence in America. https://bit.ly/46XviOo….The regime wants to start rounding up veterans, then the mass slaughter of Americans will occur directly via the FBI, or indirectly as the FBI allows the criminal gangs coming in from the border to begin "machete season" on your families.
Trans women (Men) threatening suicide because they can't go in women's bathrooms is not women's problem.
"Greed" is the biggest hurdle people don't wanna transition says US Special Presidential Envoy for Climate John Kerry on the third and final day of the Bloomberg #NewEconomyForum in Singapore….Says the guy with 6 houses, 12 cars, 2 yachts and a private jet…ooops sorry his wife owns the jet.
Democrats were preparing to issue subpoenas to conservative activists as part of their efforts to attack SCOTUS. When Republicans attached amendments to force the release of the Epstein flight logs with it, Democrats relented and Durbin shut the entire hearing down.
So we arrested the guy who owned the sex island and then arrested the woman who brought the children to the sex island, but we haven't arrested a single one of the clients who paid to rape the children on the sex island.