Reader submitted, original story by By Ryan Swatek and Nikki Krause. Ryan Swatek is a District Conservationist and Nikki Krause is a Soil Conservationist with USDA National Resource Conservation Service in Black River Falls, Wisconsin.
Wildlife and pollinators now have a safe refuge to feed, rest, and nest on 35 acres in Jackson County, Wisconsin. In 2008, Dale and Barbara Bigler purchased a country property with the dream of restoring it to its original purpose as a prairie, creating habitat to help wildlife and pollinators thrive.
The Biglers connected with the U.S. Department of Agriculture's (USDA) Natural Resources Conservation Service (NRCS) in Black River Falls with an interest in converting steep cropland acres that had been in row crops for many years into native prairie. Ryan Swatek, NRCS District Conservationist, and JD Armstrong, NRCS and Pheasants Forever Farm Bill Biologist, met with the Biglers to walk the property, discuss resource concerns, potential solutions, and goals for their land. Upon inspection, the areas of steep sloping crops were highly erodible, and gullies were present. Through the Regional Conservation Partnership Program (RCPP), Environmental Quality Incentives Program (EQIP) and the Conservation Reserve Program (CRP), USDA helped support the Bigler's dream of revitalizing the land with conservation and converting it to native prairie.
NRCS partners with the Farm Service Agency (FSA) to implement CRP. A CRP initiative, called State Acres for Wildlife Enhancement (SAFE), focuses on restoring critical habitat for different species, including the federally endangered Karner blue butterfly. The species resides in Jackson and Eau Claire counties, so this was the perfect opportunity to cultivate conservation by building critical habitat for the species in its prime location.
The Biglers applied for the SAFE program and were selected to enroll 5.4 acres of cropland, planting and establishing a Karner Blue Butterfly multi-species prairie mix. Dale is particularly proud of his blooming Wild Lupine flourishing on the property—the only plant species Karner Blue larvae eat, which is critical to their annual life cycle.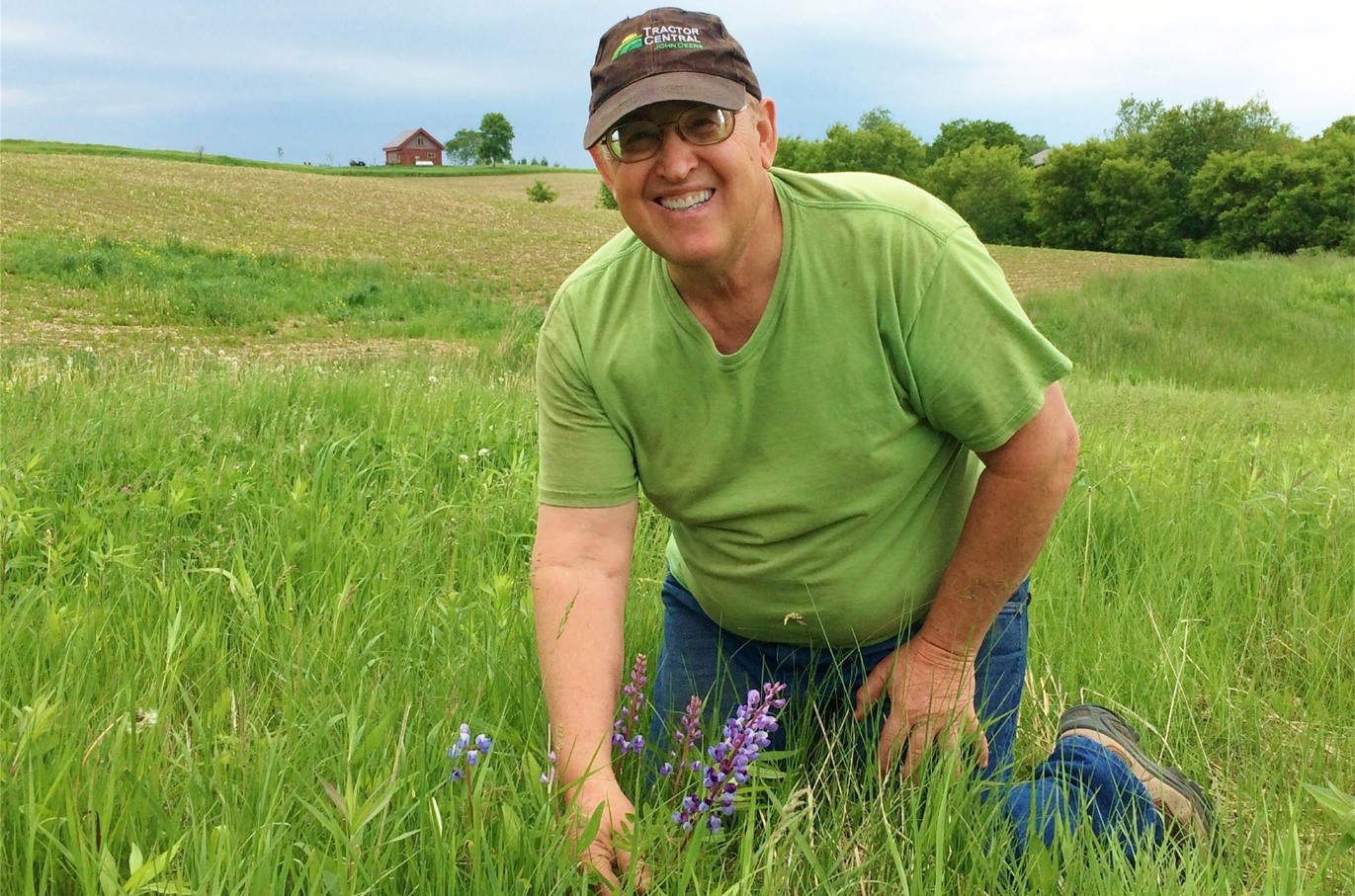 Once prairie habitat was established, the Biglers partnered with NRCS to focus on the cropland gullies. Dale and Barbara qualified for beginning farmer special incentives through EQIP. NRCS defines a beginning farmer as someone who has not operated a farm for more than 10 consecutive years. In 2013, through EQIP, two grade stabilization structures, earthen or concrete structures built across a drainageway to prevent gully erosion, were installed on the property to stabilize the cropland gullies.
In 2018, Dale and Barbara were ready for the final piece of their land transformation, which was converting the rest of the remaining highly erodible cropland into wildlife and pollinator prairie habitat. The Biglers applied for and were awarded a producer contract under RCPP – a partner-driven program that funds solutions to natural resource challenges on agricultural land. Partners receive funding to address resource concerns within a given project area and then private landowners can apply to participate in the awarded RCPP project. Producers can apply through their local service center or directly with awarded partners.
The Biglers planted 5.5 more acres of a native multi-species prairie mix designed to establish critical habitat for Monarch Butterflies.
"Dale's and Barbara's passion for protecting their land and providing native habitat for wildlife and pollinators is inspiring. They have been a pleasure to work with over the years," explained Swatek.
Dale and Barbara want to continue making improvements for wildlife and pollinators on their property. Dale recently installed wildlife shrubs and a wildlife food plot to compliment the prairie habitat plantings. The Biglers look forward to watching wildlife and pollinators establish on the property, thriving in an environment made for them.
USDA offers a variety of conservation programs that can help you plan and implement conservation practices on your farm, ranch, or forest. Learn more about putting conservation to work on your operation directly from farmers, ranchers, and forestland owners applying them through our Conservation at Work video series.